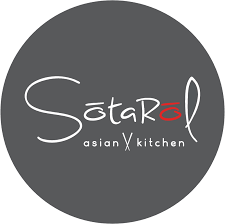 SotaRol Asian Kitchen is a new franchise offering that provides a new twist to the growing fast casual market. The restaurant opened its first location in the upscale 50th & France neighborhood of South Minneapolis in November 2015, reinventing how people eat Asian food. SotaRol offers "SotaRitos," essentially a sushi burrito, as well as sushi rolls and bowls in a 100-percent scratch format kitchen with high quality ingredients (no MSG and no GMO's).
What They do
Sushi in America has traditionally been associated with high-price-point fine dining in small-portion rolls. SotaRol offers consumers a forum for sushi to be consumed in a casual setting with quicker service and larger portions, through SotaRito Sushi Burrito's. SotaRitos also are available with proteins other than fish, including chicken, Korean ribeye or five-spice pork. These are combined with greens and vegetables and served in a soy wrapping. SotaRol uses a soy wrap instead of nori or a flour tortilla because these offer a considerably higher level customer experience in both texture and lower calories.
Growth and Expansion
The company sees a significant long-term opportunity to expand its sales across more traditional Asian menu items such as ramen and other noodle dishes. It also invests strongly in professional employees by paying an average wage greater than $15 per hour, which has resulted in lower employee turnover and higher levels of customer service.
The leaders of the company believe that the continued decline in full-service sales at older, and perhaps tired, fast casual brands creates additional revenue for younger fast casual restaurant concepts. Over the last few years, they've observed increased location growth throughout the United States from new concepts to address increased demand from all consumers for new restaurant brands serving all genres of food in a fast casual format.
This year, SotaRol expanded to the University of Minnesota, Uptown Minneapolis, Target Center Arena and new suburban markets. Its revenue per square foot is among the highest in its market segment. The company is looking for experienced multi-unit restaurant operators to expand the SotaRol brand both in Minnesota and nationally.