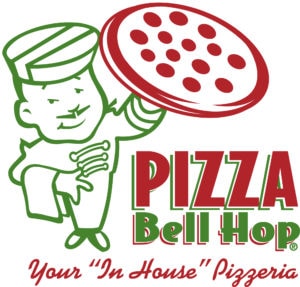 Have you heard the one where a weary and hungry traveler checks into a hotel only to find that the hotel has no room service and all the take out venues are closed? Yeah, been there right? Enter Pizza Bell Hop. They have the solution, with a unique franchise offering for hotel and motel owners who are losing guests, and an additional revenue opportunity, from these stories.
The Pizza Bell Hop concept is not just another pizza franchise offering. In fact, start-up franchisees and people looking to open a new business need not apply. Pizza Bell Hop is offering its franchises only to existing lodging owners as a business within the existing lodging business. The Pizza Bell Hop concept is predicated on offering limited service lodging facilities the ability to offer their guests a quality pizzeria style pizza made fresh and delivered fast. Utilizing extensive product testing, they developed a pizza with a proprietary garlic and butter infused oven rising pizza crust, a proprietary six-cheese blend, a vine-ripened fresh tomato sauce, and quality meats and vegetables. These pizzas cook in a custom oven programmed specially for Pizza Bellhop and that are placed in the lodging facility, creating a fresh, authentic pizza that cooks in less than four minutes.
Pizza Bell Hop has actually been in existence for several years, developing their proprietary products and testing them with travelers at the Minneapolis-St. Paul International Airport. They are now rolling out their franchise offering to lodging owners as an add-on to the hotel or motel's existing revenue sources by creating a standalone "plug-and-play" pizzeria franchise that can be set up with minimal capital and space requirements and no added employee costs.