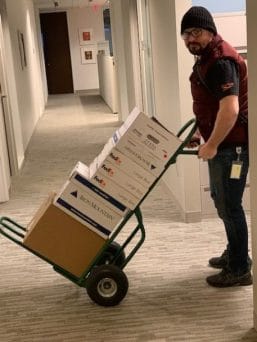 Rain, snow, sleet, or car collision, our exceptional franchise team of support staff, paralegals, and lawyers work together to make sure our clients' franchise filings are delivered on time. As our franchise practice has continued to grow over the last number of years, this spring included registrations and renewals for over 50 different franchised brands. These efforts typically culminate, in part, on or about the last day of March.  Timing is critical. Since our office is located near the MSP Airport, we have the advantage of being able to drive our filings directly to the FedEx location at the airport to make it on the last plane of the night leaving Minnesota, which leaves shortly after 8:15 p.m. Our staff have made this quick late-night trip countless times, but this year, their exceptional service and quick thinking went above and beyond to make sure the filings were delivered on time.
On March 30, 2021, our team completed the updating and packaging of the franchise registrations and renewals by 8:00 p.m. As in prior years, a member of our legal administrative staff then takes the packages to the FedEx location at the airport. This year, Justin Engelmann volunteered to drop off the packages. All of the boxes were loaded into Justin's vehicle and he headed off to the airport with time to spare, but not much. With the FedEx entrance within site, his vehicle was unfortunately blindsided by another driver who ran through a stop sign at a high rate of speed while driving through an intersection.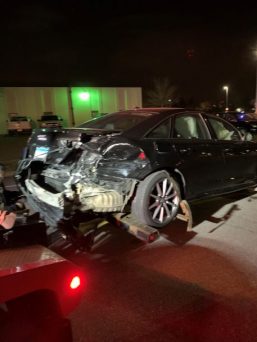 Most importantly, Justin was not seriously injured. Both cars, however, were seriously damaged, leaving the drivers dazed, confused, and processing the event. Justin, knowing that time was about to run out and the filings were not going to make it on the plane, called the office for backup. Two of our staff members raced to get the packages from him in order to complete their delivery, but the clock was ticking and Justin knew they probably would not make it in time.
Suddenly, a FedEx driver appeared from nowhere and pulled up to the crash scene to make sure everyone was ok.  Justin, seeing the opportunity, looked at him and said, "I think we will be fine, but I have all of these packages that NEED to get on the last plane out, can you take them now?" The FedEx driver agreed. Justin quickly loaded the packages into the passenger side of the FedEx driver's truck, and the driver sped off to the airport.
And that is how this year's filings made it to their destinations on time.