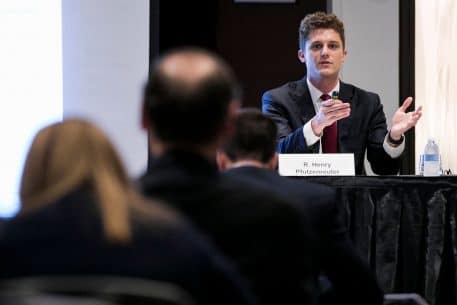 Several Larkin Hoffman franchise attorneys made the trip to Washington, D.C., to attend the International Franchise Association 52nd Legal Symposium, May 5-7, 2019. The IFA is the world's largest franchising association, comprised of franchisors, larger multi-unit franchisees, and many suppliers and vendors for franchise systems. The organization has been a force for education and advocacy in the franchising world since 1960.
Franchise Law and the IFA
Each year, the Legal Symposium brings IFA members and non-members together to share the latest news, trends, and developments in franchise law.
Chuck Modell, Joe Fittante, Henry Pfutzenreuter, and Sawan Patel attended this year's Legal Symposium to present to, learn from, and engage with the larger franchising community.
"The IFA Legal Symposium is a fantastic opportunity for leaders in franchising to come together and discuss business trends, franchise law, and regulatory issues that affect franchise systems around the world."
– Sawan Patel, Attorney
Avoiding or Defending ADA Lawsuits
Larkin Hoffman's attorneys frequently author publications and speak on issues relevant to franchisors and franchise systems, and that talent was on display at the Legal Symposium. Larkin Hoffman attorney Henry Pfutzenreuter presented How to Best Avoid or Defend an ADA Drive-By Lawsuit.
In this presentation, Henry and his co-presenters discussed franchisor liability under the Americans with Disabilities Act and similar state laws. Specifically, many companies—including franchisors—have been subject to "drive-by" and "surf-by" lawsuits from individuals for failure to comply with the ADA. These individuals are often customers of the business, and may, for example, sue to require a business to have sufficient handicap parking spaces or entrance ramps. More recent, however, are "surf-by" lawsuits where a user of a business' website claims that the website does not comply with the ADA.
To learn more about avoiding or defending these ADA claims, contact Henry.
New Technology and Legal Trends in Franchising
There were many other sessions of interest to startup and larger franchisors at the IFA Legal Symposium. For instance, how do franchisors keep data safe? How can franchisors navigate the rise of third-party food delivery services?
Here are just a few of the many engaging topics that went beyond standard franchise law to deal with regulatory issues and the ever-evolving business opportunities franchisors are looking to explore:
Adopting new technology in a franchise system while remaining within the bounds of existing franchise and vendor agreements.
Issues faced by food delivery services and service brands.
Fixing of prices charged by franchisees for products or services in light of recent developments on vertical resale price maintenance.
Privacy and data security.
Use of blockchain technology in supply networks.
Dealing with state franchise registration issues and examiner comments.
Arbitrating international franchise claims.
Enforcing non-solicitation clauses and joint employer liability.
Despite the franchising concept being around for hundreds of years, franchise law is not rigid. As society and technology progress, franchisors must be prepared to handle all types of legal and regulatory issues, even ones that the franchise world may not be aware of yet.
Contact Larkin Hoffman
Larkin Hoffman franchise attorneys are frequent authors and presenters at International Franchise Association and American Bar Association Forum on Franchising conferences. Our attorneys are proud members of both organizations and are committed to contributing to the development of franchising in the U.S.